If you have ever had the "what's for dinner tonight" argument... He isn't happy with what you want for supper, you aren't pickin' up what he's throwing down, Dirty Franks is an awesome compromise. With a ton of menu options to pick from, everyone is sure to find something they like. This place is pretty popular with the locals and totally kitschy, with that tackiness that makes Dirty Frank's super appealing.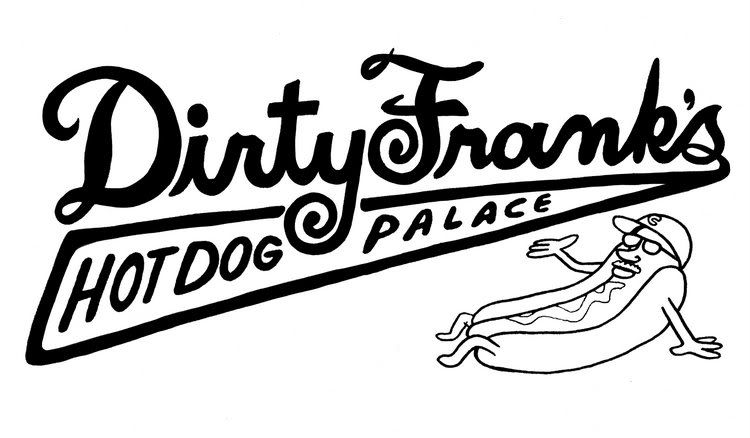 Courtesy of Dirty Frank's Hot Dog Palace in Columbus, Ohio
So, Dirty Frank's is a creation by Elizabeth Lessner who also was the brain behind Tip Top, Betty's, and Surly Girl Saloon. These joints pride themselves on not being chain-y and I love that they highlight local brews and food favorites. Ms. Lessner has also done a great job and making amazingly scrumdidlyumptions food at great prices. Dirty Frank's has a ton of weenie options to choose from, hot and spicy, classic and traditional, all out weird but delish. You can customize your dog (all-beef, veggie) or even get a brat or kielbasa. Last night, I had the tofurky dog (watching the cals) in the poppy seed bun. I got the Razzle Dazzle (cream cheese, green peppers, onion topping) and the Saurkraut dog (kraut, onions, and spicy mustard). The Ohioana is one to try as well, with a great corn relish topping. I'm sure my frank would have been better had I splurged for beef, but was still tasty! Three of us ate last night (each had 2 dogs) and with a beer and sodas, we spent about $30. Check out
http://dirtyfrankshotdogs.com/
for more information, menus, and specials! Be sure to go during non-peak hours to get a table, or be prepared to wait in line, this place is really popular among the locals and is tiny!